Product Description
The only Savoury Oat Porridge in market now!
Get Captain Eazy-Go as healthy meal replacement in their busy days. Just need 3 minutes to enjoy a bowl of warm, tastier and wholesome Instant Oatmeal. Captain Eazy-Go not only fulfilled your hunger at your busy times, but also a great choice to have in between meal. Enjoy Captain Eazy-Go, anytime.



Captain Eazy-Go Mixed Vegetables

✔️ Dietary Fibre from Oats for healthy digestion
✔️ Wholegrains for weight management

✔️ No MSG
✔️ No artificial colouring and flavouring

Nutrition Information & Ingredients
Ingredients: Oats (89%), Mixed Vegetable Seasoning (Sugar, Salt, Spice, Corn Starch, Contains Disodium 5'-Inosinate, Disodium 5'-Guanylate, Yeast Extract As Permitted Flavour Enhancer, Maltodextrin, Hydrolyzed Vegetable Protein, Palm Oil, Contains Anticaking Agent As Permitted Food Conditioner), Dried Carrot, Parsley Leaf Flakes.
This product contains cereal (oats).
It may also contain wheat, barley, milk, milk product, fish product, soy, pea and peanut which the factory uses as ingredients.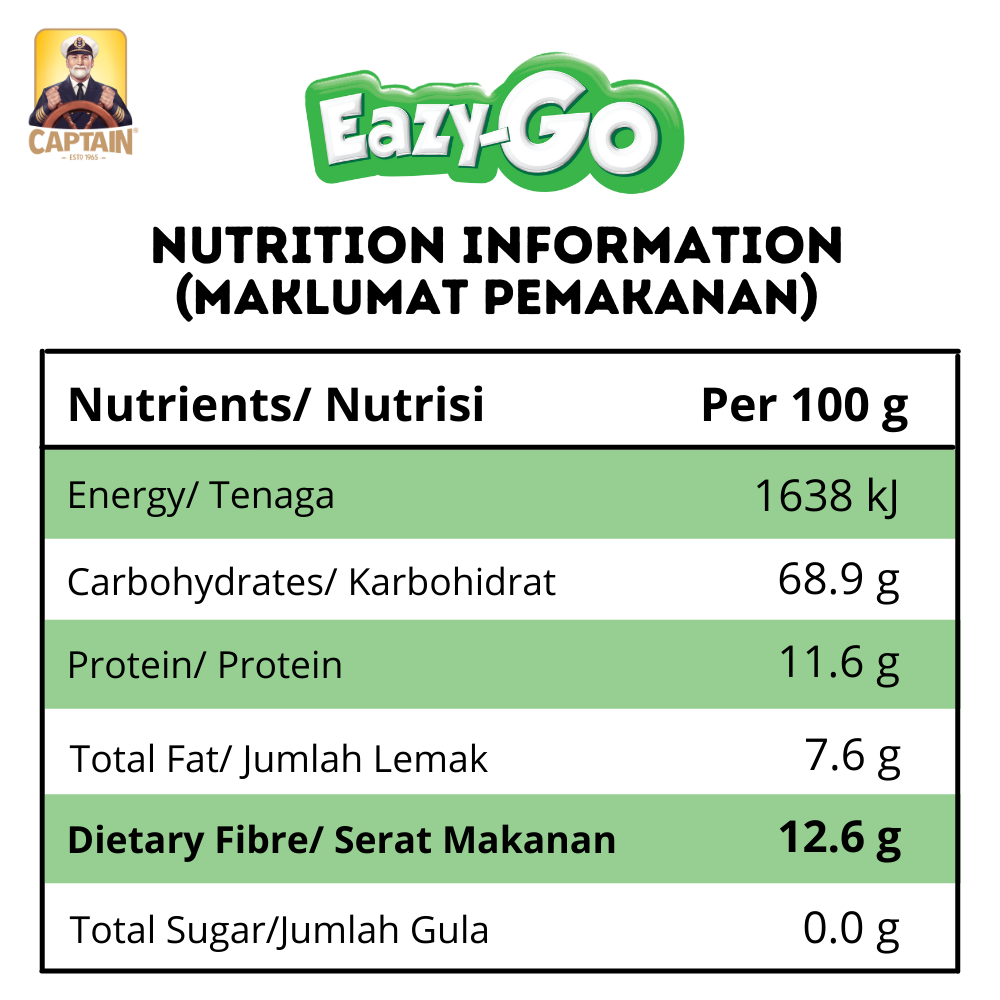 Product Details
Description: Captain Eazy-Go Mixed Vegetables
Packing List: 5S X 32g
Country of origin: Malaysia
Certification: Halal certified
Shelf life: 15 months
Storage method: Store in a cool, dry place
Serving Direction: Add 220ml hot water. Stir well and wait for 3 minutes.
Expiry date :7/8/2024